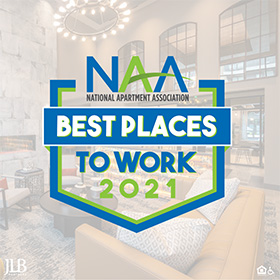 The National Apartment Association (NAA) has announced JLB Residential a winner of the 2021 NAA Best Places to Work Awards, which recognize member organizations that foster a culture of collaboration, innovation and hard work. Further, the awards pay tribute to management companies and industry suppliers that have gone above and beyond to create safe and engaging work environments despite the challenges of the past year.
"We appreciate all of our employees and the work they do day in-and-day out to ensure we are developing, building, and managing the best assets in the multifamily industry. The prestigious industry award is a reflection of their commitment to JLB Partners and our clients," said Bay Miltenberger, JLB Partners CEO.
"Congratulations to JLB Residential, your 2021 NAA Best Places to Work award demonstrates your focus on employees, engagement and performance," said Bob Pinnegar, NAA President and CEO. "Your employees made it clear — JLB Residential cares about, listens to and acts upon the needs and ideas of their employees and is a great place to work. NAA appreciates your efforts in fostering a robust workplace culture and the hard work keeping your staff safe over the last year."
Employees and their satisfaction determine the best places to work winners and finalists in each of the six categories. An anonymous employee satisfaction survey determines the winners, and the results are provided to all nominees to help organizations understand and recognize employee sentiment.
About
JLB Residential is a company of JLB Partners, LLC. JLB Partners is a national developer, builder, and manager of Class A multi-family assets in select markets of the United States. With a history of successful developments and a depth of industry specific experience, the principals of JLB have worked together for over 15 years and continue to create properties with well-thought-out designs in core markets. JLB Residential was recognized as one of NAA's 2020 Best Places to Work. This prestigious industry award recognizes companies which encourage employee engagement and performance and foster collaborative and innovative work environments. To learn more, visit www.jlbresidential.com.
About NAA
The National Apartment Association (NAA) serves as the leading voice and preeminent resource through advocacy, education, and collaboration on behalf of the rental housing industry. As a federation of 151 state and local affiliates, NAA encompasses over 93,000 members representing more than 10 million apartment homes globally. NAA believes that rental housing is a valuable partner in every community that emphasizes integrity, accountability, collaboration, community responsibility, inclusivity, and innovation. To learn more, visit www.naahq.org.